Great Hall (Large Banquet Hall)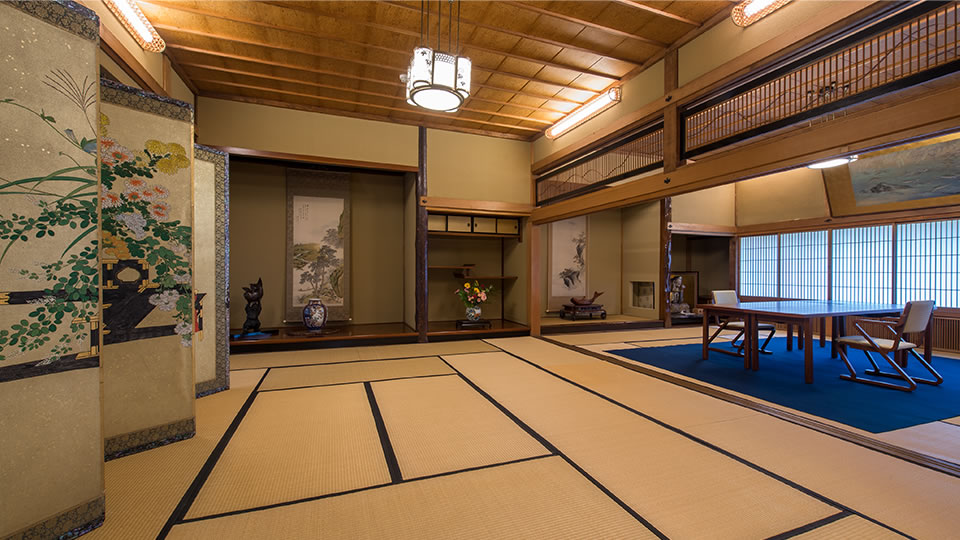 Entering the front entrance of the Irimoya style (a hip-and-gable roof structure), you will be in an impressive atrium space with thick beams running lengthwise and breadthwise. On your right, there is a 75-jo (tatami mat) great hall (if all fusuma are open). This is where the counter used to be located in the main house of the magnate of fishermen. It is said that Funatama Festivals and banquets after fishing were held there and that many fishermen and geisha gathered.
There is a hearth at the front, and a large household Shinto altar of 2.5 ken (4.5 meters) was established there to pray for a good catch and safety. In addition, alcove posts made of Japanese red pine with the bark and an alcove where a solid, broad wooden plate is luxuriously laid are very valuable.
Solarium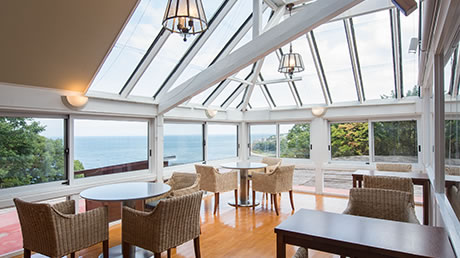 The solarium is where guests can taste aromatic coffee after breakfast. In this luxurious space, you will feel integrated with the sky and the seaside. You can plan your future travel schedule, read a book in the mild sunlight and have an enjoyable time.
Lounge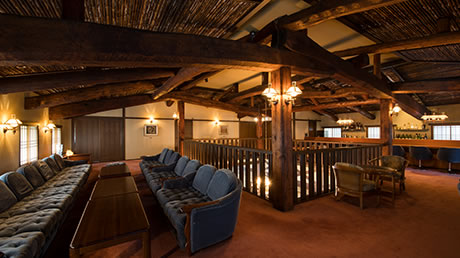 Impressive thick beams in the salon space will remind you of its long history as a warehouse for storing fishing nets. The soft light of lamps also lights you up, and there is a wide bar counter. You can experience a leisurely, relaxing, special night during the travel, limited only to adults.
Watchtower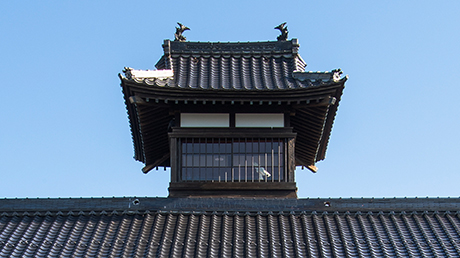 A watchtower (fire tower) stands in the center of the massive wooden roof impressively covered with magnificent tiles with the family crest engraved. It is topped with Shachi (an imaginary creature with a tiger head and a carp body) just like a castle tower. From the watchtower built without the use of nails, you can overlook every direction. It is said that a group of herring were seen to come, turning the sea into white.
Night spot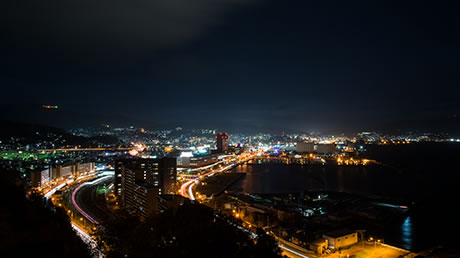 Cape Hiraiso, where GINRINSOU stands, is famous for the splendid view of the port town Otaru. Only guests staying with us can enjoy this special night view to their hearts' content. Please enjoy seeing the sunset coloring the ridge of Mt. Tengu, wharves in the twilight and sparkling city lights at night.
Shop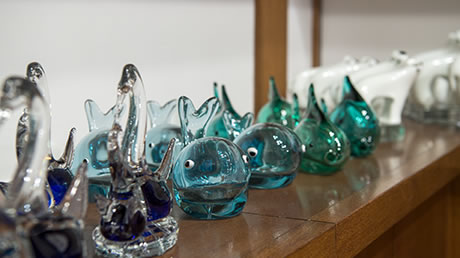 Otaru is a city of glass. GINRINSOU sells colorful glass crafts as well. There are delicate glass work and other goods full of originality such as glassware and containers. The brilliance of transparent glassware will be associated with your memory of the journey.